Home>About one piece, one love>Samurai T's List>1st.LST model

1st.LST model : One of The Four Oaths of the Hagakure /5,380JPY(tax included)
This is Long Sleeve T-shirt version of our 1st.model.
Put our HAGAKURE1716 crest on the back.
Put our concept "To manifest great compassion, and to act for the sake of Man.", which one of The Four Oaths of the Hagakure, between lotus logo and layouted like image of a sword and a cross.
Put YOTSUME-KAMON to the left sleeve.
Put our "one piece, one love" Red Tag to the right bottom cornaer of the front.

Please check our SIZE CHARTS on the bottom of this page before you order.
When you click images of the T-shirts, you can see the actual photo with other window which is the our shopping site.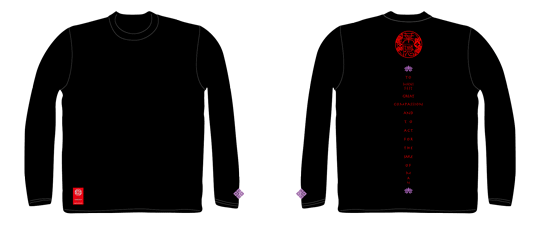 HAGAKURE1716 preparing a variety of the size which are S, M, L and XL. These T-shirts for unisex so everyone can enjoy it! Please check the size charts blow and compare with your own favorite T-shirt before you oreder. And also, please understand that after you wash the T-shirt, they may shrink little bit which the nature of T-shirt.
SIZE(cm)
LENGTH
WIDTH
SLEEVE
S
66
48
55
M
72
55
57
L
75
54
59
XL
77
57
61