Home>About one piece, one love>Samurai T's List>2nd.model

3rd.model : Tsuramoto meets Joucho … /3,580JPY(tax included)
It has been 300years, since Tsuramoto, who was writer and editor of "HAGAKURE KIKIGAKI", had fortuitous encounters with Kyokuzan Joucho, who became a mentor and also dictator of "HAGAKURE KIKIGAKI" in 1710.
We designed from based on this great encounter untill publised "HAGAKURE KIKIGAKI" in 1716, which 7years later of their meeting. And also, we using the "Circle" shape which is very important element and mind of ZEN.
Put our "one piece, one love" Red Tag to the right bottom cornaer of the front.

Please check our SIZE CHARTS on the bottom of this page before you order.
When you click images of the T-shirts, you can see the actual photo with other window which is the our shopping site.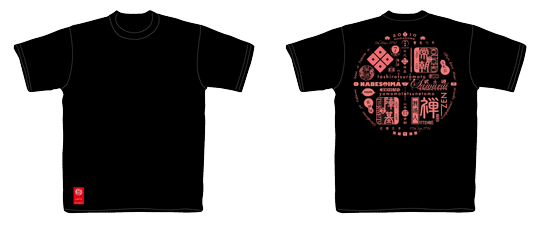 HAGAKURE1716 preparing a variety of the size which are S, M, and L. These T-shirts for unisex so everyone can enjoy it! Please check the size charts blow and compare with your own favorite T-shirt before you oreder. And also, please understand that after you wash the T-shirt, they may shrink little bit which the nature of T-shirt.
SIZE(cm)
LENGTH
WIDTH
S
67
46
M
70
48
L
73
51