Home>About one piece, one love>Sensha fuda lists>Sensha fuda 001

Sensha fuda, they used to stuck to the temple or shrine as a proof of Pilgrim visted the location. In the Edo periodo, merchant used them as a trading card to exchang each other like a business card for today.
HAGAKURE1716, we use this card as one tools of the spread of Japanese Culture to the world and start the service which convert foreigner's name or nickname into Japanese "KANJI" characters, which we called "EDO NAME", and print it onto Sensha fuda sticker. We wish it going to be a Japanese souvenir or the present for your friends in overseas, or your original card in the world.
TO CONVERT YOUR NAME INTO JAPANESE KANJI !
That's what we called "EDO NAME" !
Sensha fuda sticker/ 600JPY(tax included)
SIZE:100mm(W)×148mm(H)
Number of pieces:7 pieces
Large size(2 pieces):3.2cm(H)×8.6cm(W)
Small size(4 pieces):1.5cm(H)×4cm(W)
HAGAKURE Logo(1 piece)
The sample on the left , we converted the name of "Jonny" into Japanese characters. The maximum Japanese character we can put into sticker are six. If you don't know wheather your name or nickname fit into six Japanese characters, please ask us before you make an order.

Please read the "How to order Sensha fuda" below before you make an order. There are important notice included.
Cautions
The SENSHA FUDA sticker is made with durability. However, please note that there is a possibility the sticker might come off or the color might fade away in case it was put on the things which are used in outside. Also, the ink of the sticker might blot with the sweat of hands by putting on mobile phones.

Please read through Step number 1 to 9 before you make an order. Step number 6 contained most important information. We don't have to mention, but there is no red enclosure to actural store screen.
Step 1
Click product name which link to the product detailed page.
Step 2
Put the number of order and Click the "Add to cart" button.
Step 3
When your order is correct, click the "Checkout" button.
Step 4
If you are non-menber, you can still buy our products. Or you can join our menber here.
When your order is correct, click the "Continue" button.
Step 5
Enter the custotmer information and shipping address. Check the "the shipping address is your address" box when shipping address is the same as a customer. Click the "Next page" button.
Step 6:Order form(Shipping and Payment)


Select payment and shipping method. You should select "Regular-sized mail" for shipping method.


IMPORTANT:

When you order Sensha fuda, please put your name, nickname, Qty for each names(if you order more than one sheets), and your country.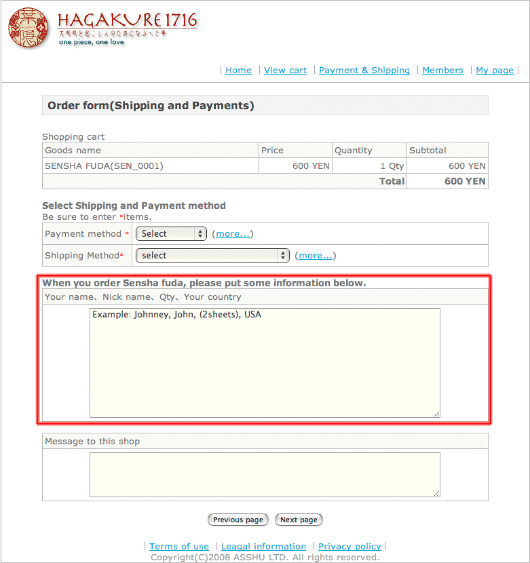 Step 7
Comfirm your order again and every information you enterd are correct, click the "Check out" button. We will send "Order comfirmation email" to your email address.
Step 8
Now your order is compleated. Please click the "Pay by credit card" button to finish your payment.
Step 9
Enter your credit card information and click the "order" button to finish payment. In addition, we are using SSL with 128bit encryption for our communication which is secure communication so that your credit card information does not leak to others.

---